We like this industry. We like the people. When you've got that going for you, the work becomes more about the relationships you make and taking good care of your customer.
We started Right Turn Supply to do just that. We find the best items in the marketplace. We deliver them with honest information and service at the highest level – the whole enchilada.
If you want the longer version of the story, pull up a chair and we'll tell it.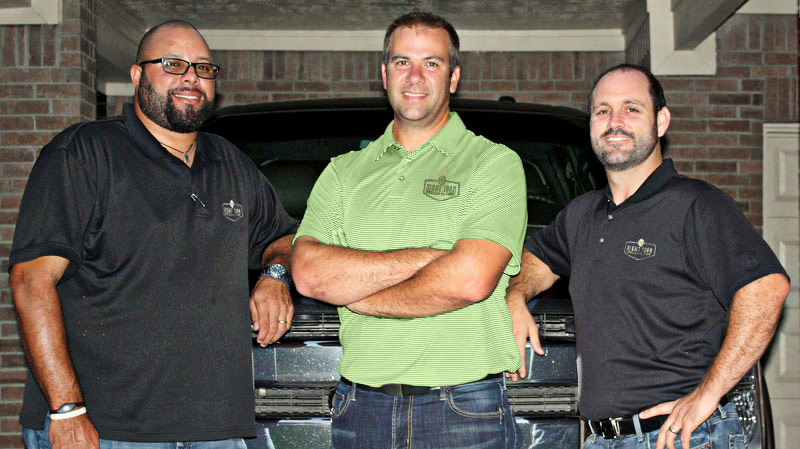 Jon:  I am a founding member and partner at Right Turn Supply.  As a former owner of an HDD contracting company, I try to draw upon my own jobsite experiences to help RTS customers increase their productivity.  My days are spent interacting with customers and using their feedback to guide the strategic direction of Right Turn Supply, always looking for new ways to help our customers be more successful and profitable.
Brief Work History:  I've had the pleasure of serving the HDD industry for more than 14 years. After gaining hands-on experience in the field, I joined Vermeer Corporation as a key accounts manager, working my way up to a strategic management role within the Vermeer pipeline segment. I decided  to move into an ownership role at Right Turn Supply to be a part of a team of experts dedicated to successful HDD projects.
I strive to share insights with peers through speaking engagements, bylined articles and involvement in professional organizations like Pipeline Contractors Association and many other industry supporting events. I currently serve as the DCA HDD Committee chairman and on the Board of Directors as Associate Member Senior Director.
Family Life:  I reside in Pella, Iowa with my wife and four children, who share an affinity for the HDD industry.  The Heinen kids always look forward to the DCA summer family events, where they reunite with friends from around the industry.
Patrick:  I believe a bio should reflect personality while supplying a brief background of life and work history.  I'll try to manage both.  I am one of the founding members of Right Turn Supply. I love the pipeline industry.  Some of my best friends work in this industry as contractors, vendors and small business owners.  My love for big drills and the friendships I've made were major factors in my decision to start Right Turn Supply with my partners.
Speaking of partners, I'm blessed to have these guys.  We balance each other out.  Our skill sets complement one another in a way that allows us to give our customers the best experience possible.  We all agree on the goal of providing those who are powering America and Canada an "easy button" to get consumables in a way that's honest and hassle free.
Like Jon and Tim, I am involved in the industry's organizations.  I am a proud member of the DCA, PLCA, and PLCAC.
Brief Work History:  My first internship in college involved designing long-haul fiber backbones for McLeod USA, using GPS and GIS software before it was cool.  I went on to join Barker Lemar Engineering, designing GIS systems for solid waste facilities and underground storage tanks to maintain compliance with the EPA and DNR.  This background positioned me to head up the engineering of a multi-city FTTH project, then on to lead a team of lighting engineers working on projects like the Olympics, NASCAR, F1 and other sporting venues.
With that diverse background, what else would a guy do but get in to pipeline?  I see you scratching your heads.  In 2012, ready for new challenges, I accepted a position with Vermeer as a pipeline specialist.  That was the spark that lit the path to where I am today.  Oh, did I mention that my now-business-partner, Jon Heinen, was the one who hired me at Vermeer?  I still remind him that it was one of the smartest things he's ever done.
If you want all the details check out my LinkedIn page.
Family Life:  I'm from Iowa, born and raised, but have had the great opportunity to travel the world.  I am married to Michelle and we have a son, Jack.
Tim: I am a founding member of Right Turn Supply. I thrive each and everyday to help customers maximize their productivity and profitability. At Right Turn Supply we pride ourselves on giving customers options on products and services. We strive to give customers what they want at a fair price while giving the best customer service they have ever seen. Right Turn Supply is a unique business. We are the only business in the Pipeline and HDD space that approach business in a "One Stop Shop" model. With the help of my partners Jon and Patrick we have successfully helped customers streamline their business to a one call that's all model. This allows customers to concentrate on what they do best and let Right Turn Supply procure all of their products and services. The result of this is, customers are able to maximize their time and profitability. We are a true Full Service HDD/Pipeline company. 
Brief Work History: My sales experience includes 12 years in the pharmaceutical industry in Louisiana and Texas. 
After Hurricane Katrina, me and my family moved west to Houston with a vision for greater opportunity. I brought my determination and sales expertise to the oil and gas drilling industry as a Drilling Fluids Specialist/Director of HDD at DrillChem. After getting into the Energy business I was introduced to Horizontal Directional Drilling. The big breakthrough came while coaching my daughters' soccer team. It was there I was approached by a potential customer whose daughter played on the soccer team. We met the following Monday, I was introduced to the HDD industry and my life changed. My love affair with Horizontal Directional Drilling began.  I am a proud member of the DCA, PLCA, and PLCAC.
Family Life: I attended Louisiana State University. I was a student athlete there from 1993-1997. I have a business management degree with a concentration in Training and Development. My wife, Marlene, runs an online clothing boutique( the white cactus). We have two beautiful teenage daughters Emma(16) and Paige(18). Both are athletes, Paige is currently pursuing a dream of playing soccer in college. She is in the Midwest having the time of her life. Emma is still in high school playing volleyball. She is currently being recruited to purse her dream as a collegiate volleyball player. Both are excellent students and most important they are grounded and loving kids.